Kathy Permenter, SIOR
Co-Managing Partner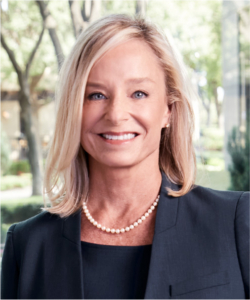 CLIENTS SERVED
Aberfeldy Properties
Aegon USA
Beal Bank
Billingsley Company
Caddo Holdings
Capital Commercial
CW Capital
Daymark Realty Advisors
EY Ventures
Fausset Neely Inc.
Four Point Star
Highbrook Investment Management
Kash Group
Kodiak Capital Partners
L&B Realty Advisors
McKnight Realty Partners
Menyon Capital Partners
Occidental Tower Corporation
Oliver Investments
PS Business Parks
Ravinia Capital
RREEF
SMA Equities
Taurus Investment Holdings
The Haberman Group
Kathy Permenter is a motivated, personable business professional with more than three decades of experience in the commercial real estate industry. An original founder and co-managing partner of Younger Partners, Kathy has been involved with the company's overall strategy, vision and growth since its start in April 2012 while continuing to deliver exceptional value for her own clients each day.
Kathy's success in executing some of the most significant leases in the Dallas-Fort Worth region can be attributed to her years of transaction experience, CPA background and ability to execute creative solutions. Her leadership and insights have helped develop Younger Partners into a full-service commercial real estate firm with more than 100 employees and a management and leasing portfolio of over 12 million square feet of properties.
Prior to founding Younger Partners, Kathy held senior positions with Trammell Crow Company, Grubb & Ellis, and CBRE. In addition, she is an active Board Member for The Real Estate Council, a member of ICSC, as well as an Executive Board Member for NTCAR Hall of Fame.
PROFESSIONAL
AFFILIATIONS/ACCREDITATIONS
Texas Real Estate Commission – Licensed Broker
North Texas Commercial Association of Realtors (NTCAR) – Member, Past President and former Board of Directors, Hall of Fame and Stemmons Service Event Committees
International Council of Shopping Centers (ICSC)
Commercial Real Estate Women (CREW) – Member, Sponsor, Fireside Chat Mentor
Real Estate Council (TREC) – Board of Directors
My Possibilities – Board Member
Twelve Ordinary Women
Society of Industrial and Office REALTORS® (SIOR)
AWARDS/RECOGNITIONS
Real Estate Forum – Commercial Real Estate Women of Influence
DCEO Magazine – Power Broker, Dallas 500 Influential Business Leader, Best Commercial Real Estate Broker in Dallas
Bisnow – Dallas Power Women Award
Connect Texas – Women in Real Estate Award
Dallas Business Journal – Heavy Hitter's Award, Women in Business Honoree, 2017 Deal of the Year (Community Impact), Mentor at BizWomen Mentoring Monday
NTCAR – 2019 Stemmons Service Award
REDNews – Women's Forum Speaker
EDUCATION
M.B.A. from Southern Methodist University
B.B.A. from Texas Christian University
"The stage is set for a strong consumer spending surge. The retail sector will benefit significantly from the expansion of our regional economy."
– KATHY PERMENTER